Shopping Cart
Your Cart is Empty
There was an error with PayPal
Click here to try again
Thank you for your business!
You should be receiving an order confirmation from Paypal shortly.
Exit Shopping Cart
Leicester C​ounselling, Supervision & Training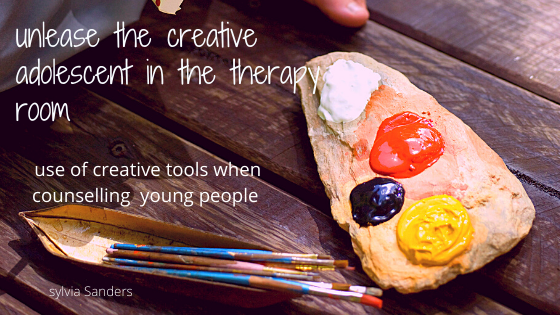 Counselling young people – Is talking enough
I have been working with young people therapeutically  for 3 decades and what I  realised early in my career  was that most struggled with counselling being  just a talking therapy.  
What's the difference in counselling adults and young people?
Young people have specific needs when receiving therapy, this is a time in their lives that they are discovering their own individuality. At this age young people (those aged 11-19)  enjoy new experiences ,being creative is often seen as a positive activity  Abstract thought has developed and this can be incorporated in facilitating them to process their feelings and thoughts  with using metaphors within the use of creative tools. The expectation to just talk can be intimating and put young people off seeking counselling. Having creative opportunities is valuable to keeping young 
people engaged with the process. Creativity within the sessions allows the young person to explore difficult situations and feelings in a safe manner without having them feel too raw. Placing their thoughts/feelings  onto a object rather  owning it at that moment  allows them to feel  safe , then through exploration processing these difficult feelings can be achieved .
The tool box
I have found the counsellors that I supervise have discovered a wide variety of exciting tools to use, art equipment such as crayons, felt pens, chalks and paints are usually a good starting point ,clay or  playdough can be used for those that prefer a median that is  to tactile and many  can use the material to  channel the  release of emotional tension, in a simple primitive way. Investing or making a simple sand tray that can accommodate the use of miniatures and objects allow clients the opportunity for projective play. The use of miniatures and sand is a non-threatening activity  which needs no  art skills, which is  less self-conscious than traditional use of art materials. . They get into the exercise and discover unconscious material that they hadn't realised. Other ideas include the creation of collages with materials such as magazines and coloured paper, I have had also used photographs when a young man who enjoyed photography. . A favourite one of mine  that I often introduce is asking the student to
Create a family portrait using whatever art materials they wish,  
This is a useful  tool to assess and reflect on family relationships roles and dynamics that they young person  may want to address.
Non -Directive Approach
 I work as a person centered counsellor  in a non-directive way, I don't interrupt I help the client process their creations and allow them to discover their own meaning. Introducing creativity in the room is a skill that is developed.The basis is a relationship that is non judgmental and the young person  has trust within the counsellor.  .Building good rapport and having a relationship based on respect is central to the success of counselling young.  A young person will feel more relaxed and open to being creative if the environment in the room is one tht gives them the control , art material can be placed near to the young person in the session  or will  feel ok to be able to ask to use them. The contract will be the first discussion to  give permission to use the creative tools available during the session. . The person centered approach is not to interrupt the creations but to enquire and explore what the client  is creating . The person will be encouraged to find their own insight.
Why use them? .
Using creative tools can help with  a range of issues and are presented by young people These include .
Loss and  bereavement, 
identity issues , 
Past trauma . 
Bullying and low self esteem, 
Anger sadness and low mood 
Have a go ! you don't have to be good at art its the process and not the end the product
Clinical Supervisor to School counsellors and founder of 
space 4 u school counselling .
/